Home


...............
What's New
...............
Articles
...............

Speeches


...............
Links
...............
Photos
...............

Donations


...............
Español
...............

Your tax-deductible
donation should
be made to:
AFHU
(American
Friends of the
Hebrew
University)
which is a
not-for-profit
501(c) 3
organization.


•

20 N. Wacker Drive
Suite #2020
Chicago, IL
60606

•
Book ________________________________
    The Ministry of Foreign Affairs in Israel compiled a
    book dedicated to the Memory of David Diego.
   
    After David Diego's death, many people from all over the world
    sent letters, telegrams and all sorts of notes to express their sorrow
    and condolences to the family. Israel's Ministry of Foreign Affairs
    Bureau of Human Resources Capacitation and Planification,
    took the initiative and compiled part of these materials in this book
    and translated to both Hebrew and Spanish. In it, there are also
some photos and poems. English translation is now available with
    extended content.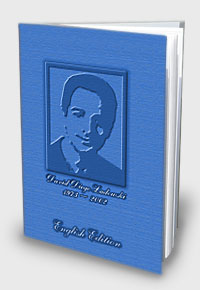 Our gratitude goes to all the people who worked so hard on getting this
    book published and to all those whose messages are included in it.

Those who send a Tax-Deductible donation of $54.00 or more will
receive A FREE copy of these books in appreciation for your contribution.
Click Here
Quantities are limited.